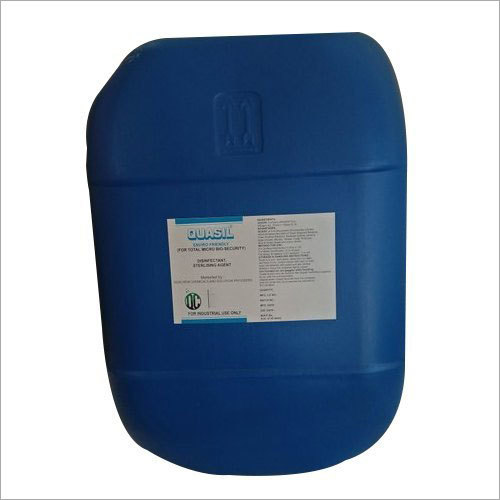 Quasil Air Disinfectant
Price And Quantity
Liter/Liters,

350 Onwards INR
Product Specifications
Liquid

SPECIALTY DISINFECTANT
7722-84-1 ; 7761-88-8

INDUSTRIAL BIOCIDE
As a spray Disinfectant , Operation Theatre Disinfectant, Office and Building Disinfectants, Malls and Institutional Disinfectant, Factory & Godown Disinfection

Hydrogen peroxide + Silver
food, Pharmaceutical, Industrial
Product Description
Quasil is a multi-component fumigantand disinfectant. The oxidizing agent used is hydrogen peroxide, which isbonded with stabilizing agents to form a complex solution. A long-lastingeffect is ensured by the addition of silver, which acts as a catalyst in traceamounts. The bactericidal effect of silver is based on the fact that themonovalent silver ion Ag+ binds very firmly to bacterial proteins by a covalentor co-ordinate bond, and thus inactivates or precipitates these.
Effective Mode of Action
The combined effect of hydrogen peroxide andsilver nitrate attacks cell walls of micro-organisms upon direct contact.Nascent oxygen denaturizes the cell wall and disrupts cytoplasm stability. Thiseffect is boosted by silver ions that disrupt protein activities associatedwith reproductive and metabolic systems and deactivates them resulting in rapidcellular degradation and microbial death.
Silver H2O2 disrupts the cellular membrane ofmicro-organisms and attacks internal cell structure and processes. H2O2 decomposes into water and oxygen (2H2O2 –> 2H2O+O2 ) and traces of nano silver form aresidue on the disinfected surface. These silver traces are invisible andnon-toxic but actively and effectively counteract re-germination and re-growth.
Quasil effectively protects critical surfaces that come in contactwith it.
It is recommended to wash fruits, vegetables, hands & clothes and skin thathave been contaminated with the pathogen (excrements) with soap and water.Objects and surfaces should be physically cleaned with Quasil Disinfectant.
Aerial Fogging
When Quasil is used with a recommended Sterile-fogg foggermachine, it generates a very fine mist with a droplet size of less than 1micron. This helps the disinfectant solution to be sprayed evenly. The smallerthe sprayed droplet size, the more effective is the action of the disinfectantsolution while also achieving a broader coverage area. A specific area can berendered completely sterile within 60 minutes of spraying without causing anyirritation to the eyes, nose and skin – unlike conventionally usedformulations.
Sterile-Fogg Fogger
The recommended ULV fogger emits a very finemist which allows the formulation to be suspended in the atmosphere for alonger period of time. This guarantees100% kill on all air-borne bacteria andfungi.
The autonomous precision spraying tool (theULV fogger machines), can also be a highly effective alternative to accuratelyreleasing disinfectants over open places. Foggers can be directed to spraywhere as needed and cover a wider area, helping to improve public hygiene andreduce the risk of virus transmission through aerial & surface contact.
ADVANTAGES
# Eco- friendly – It is totally bio-degradable since (H2O2) breaks down into water &oxygen
# Chlorine free
# Non-toxic (no irritation to skin or eyes)
# No effect on pH
# Non carcinogenic & non mutagenic
# Totally risible with no remains
PROPERTIES
# can easily be dosed
# does not foam
# decomposes into water and oxygen
# treats any other material with consideration
Specification :

| | |
| --- | --- |
| Minimum Order Quantity | 30 Kg |
| Form | Liquid |
| Packaging Size | 30 Kg |
| Brand | Quasil Enviro Friendly |
| Packaging Type | HDPE Carboy |
| Ph Value | 1.2 (Concentrated Product) |
| Shelf Life | 1 Year |
| Usage | Industrial |
Trade Information
Cheque, Cash in Advance (CID)

1000 Per Week
3-4 Days

HDPE, VENTED CARBUOY, AIR TIGHT & SEALED
Contact Us
Plot No. B-303, Vasant Mandir CHSL, 1, Diwanman, Near Manav Mandir Complex, Vasai West,, Vasai, Maharashtra, 401208, India
Phone :+918045476285